If you want to run three monitors on Windows 10, you can do it. All you need is a little bit of extra hardware and the right settings. Here's what you need to know.

First, you'll need a video card that has at least three outputs. Most cards these days have at least two, so this shouldn't be a problem. Next, you'll need to make sure that your monitors are all set up in Extended Desktop mode.

To do this, right-click on your desktop and select "Screen Resolution." Click the "Multiple displays" drop-down menu and select "Extend these displays." Finally, click the "Apply" button and enjoy your three-monitor setup!
Connect 3 Monitors To 1 PC Explained In 4 Minutes
Use an HDMI cable to connect the first monitor to the HDMI port on your computer
Use a second HDMI cable to connect the second monitor to the other HDMI port on your computer
Use a DisplayPort cable to connect the third monitor to the DisplayPort port on your computer
Once all three monitors are connected, turn on your computer and wait for Windows to boot up
Right-click on the desktop and select "Display Settings
In the "Display Settings" window, click on the "Detect" button if it's available
This will cause Windows to detect any connected monitors and display them in this window accordingly
If there is no "Detect" button, then all connected monitors should be displayed automatically
If not, please ensure that all cables are properly plugged in and that each monitor is powered on
Sometimes restarting your computer can also help resolve any detection issues
7Under the "Multiple displays" section , select one of three options : Extend these displays , Duplicate these displays , or Show only 1
Extend these displays : This option will treat each of your monitors as one long canvas , allowing you move your mouse cursor from one screen to another seamlessly
Any open windows will also be extended across all three screens , meaning you can have different programs running on each display simultaneously
Duplicate these displays : This option will show identical content across all three of your monitors
All open windows will also be duplicated across each display , making it ideal for giving presentations or watching movies with a group of people
Show only 1: Only one of your monitors will be used while this setting is selected ; The others will simply remain powered off until you change this setting back again later
How to Setup 3 Monitors on a Laptop
If you're like most people, you probably use just one monitor with your laptop. But what if you could increase your productivity by using three monitors? That's right, with just a few simple steps you can add two more monitors to your laptop and have them up and running in no time.

Here's what you'll need:– Two additional monitors – A video card that supports multiple displays (most do these days)

– The appropriate cables to connect everything together (usually DVI or HDMI)Once you have everything, the rest is easy. Just follow these steps:

1. Connect the first monitor to your laptop's video output port. This is usually located on the side or back of the laptop.2. Connect the second monitor to the first monitor's video input port.

You'll usually find this on the back of the first monitor.3). Repeat step 2 for the third monitor, connecting it to the second monitor's video input port.

4). Once everything is connected, turn on all three monitors and enjoy your increased productivity!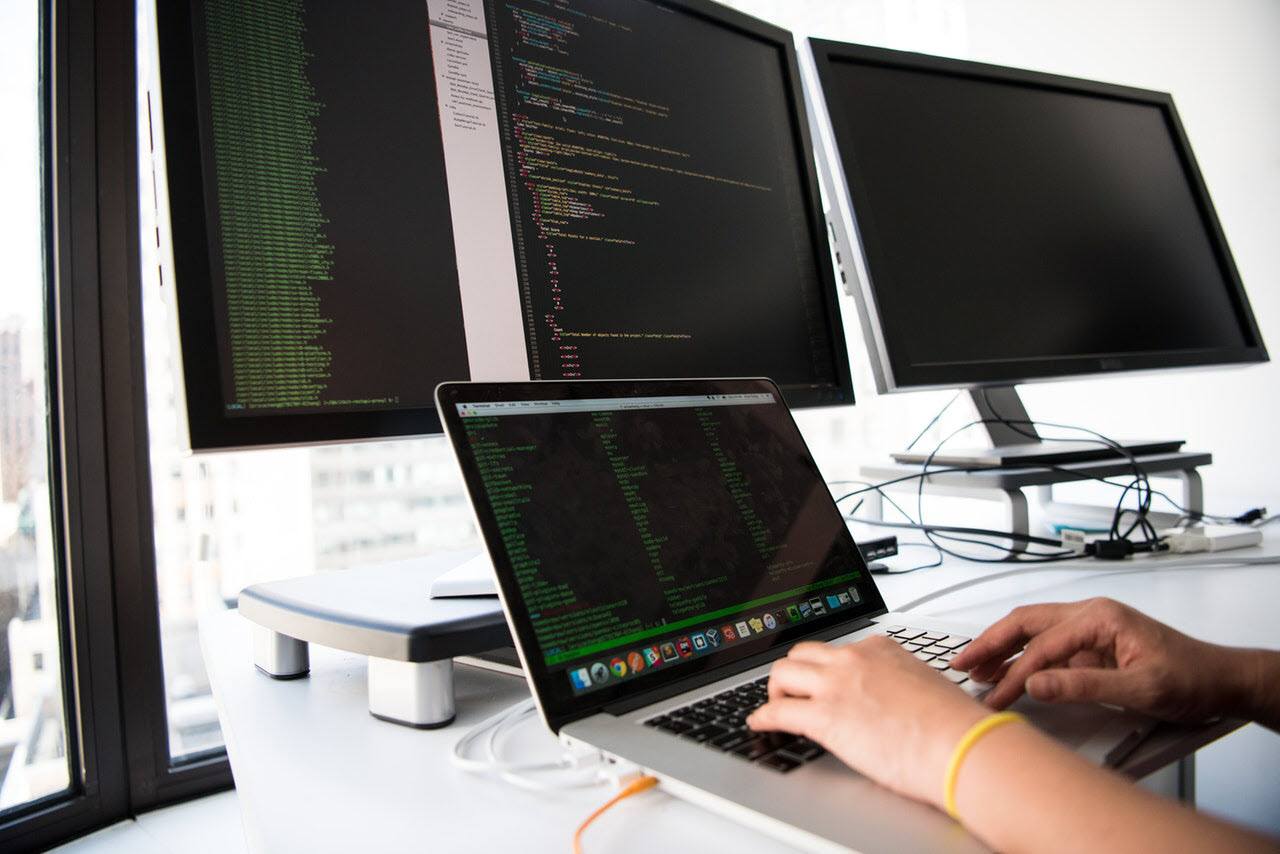 Credit: www.drivereasy.com
Will Windows 10 Support 3 Monitors?
Yes, Windows 10 will support 3 monitors. You can use the HDMI port, the DisplayPort, and the DVI port to connect three monitors to your computer.
How Do You Hook Up 3 Monitors to One Computer?
If you want to connect three monitors to one computer, you have a few different options available to you. The best way to do it will depend on what kind of video outputs your computer has and what kind of monitors you're using.The most straightforward way to connect three monitors is to use one DisplayPort output and two HDMI ports.

This will work with any computer that has those types of outputs, and any monitor with an HDMI input. If your computer only has DVI or VGA ports, you can still use this method by getting adapters for the appropriate inputs on your monitors.Another option is to use a USB video adapter.

These devices plug into one of your computer's USB ports and provide an additional video output. They're relatively inexpensive and easy to set up, but they can be finicky and may not support high resolutions or frame rates.Finally, if you have a very powerful graphics card, you may be able to use multiple graphics cards in tandem to power more than two monitors.

This is generally only necessary for gamers or other users who need lots of graphical horsepower, though.Whichever method you choose, setting up three monitors gives you a lot more screen real estate to work with compared to a single display.
Can a Pc Handle 3 Monitors?
Yes, a PC can handle 3 monitors. There are a few things you need to take into consideration when adding a third monitor to your PC though. First, you need to make sure your graphics card has enough ports to support three monitors.

Most graphics cards have two ports, but some higher end ones will have four or more. If your card only has two ports, you can still use three monitors by using a Monitor Splitter Cable. This will take one port and split it into two so that you can connect two additional monitors.

Another thing to consider is the resolution of your monitors. If you're running all three at their highest possible resolutions, it's going to put a strain on your graphics card and could potentially cause slowdown or other issues. It's best to run each monitor at its native resolution and then scale them down as needed so that they're all roughly the same size.

That way everything will look nice and crisp without putting too much stress on your system.Overall, adding a third monitor to your PC setup is fairly simple and straightforward. Just make sure you have the right hardware and don't overdo it with the resolutions and you'll be good to go!
Can You Run 3 Monitors on One Graphics Card?
Yes, you can run three monitors on one graphics card. This is done by using what is called a DisplayPort Multi-Stream Transport (MST) hub. MST hubs take a single DisplayPort input and create multiple virtual outputs, which are then seen as separate displays by the graphics card.

There are a few things to keep in mind when using an MST hub. First, not all graphics cards support MST hubs. Check with yourGPU manufacturer to see if yours does.

Second, even if your GPU supports an MST hub, it may not support more than two displays connected through the hub. Again, check with your GPU manufacturer for details.Assuming you have a compatible GPU and enough video outputs on your MST hub, setting up three monitors is actually quite easy.

Just connect the DisplayPort output from your graphics card to the input of the MST hub. Then connect each of your monitors to one of thehub's outputs. Your computer should automatically detect the new displays and extend your desktop across all three screens.
Conclusion
If you're running Windows 10 and want to use three monitors at once, you're in luck. While previous versions of Windows only allowed for two monitors, Windows 10 supports up to three monitors without the need for any third-party software. All you need is a compatible graphics card and some extra cables.

Here's how to set it up.First, make sure that your graphics card has three DisplayPort outputs or three HDMI outputs. If you're not sure, consult your card's documentation or check the manufacturer's website.

Once you've confirmed that your card supports three monitors, connect each monitor to its own output port on the back of the graphics card using either DisplayPort or HDMI cables.If you're using DisplayPort connections, you can use Active DisplayPort adapters to convert the signal from your graphics card's DisplayPort output to DVI, HDMI, or VGA—whatever connection type your monitor uses. Once all of your monitors are connected and powered on, open the Settings app by pressing Windows+I on your keyboard.

Click "System," then click "Display" in the left sidebar.Under "Multiple displays," select "Extend these displays." Your main display will be labeled "1," while the other two will be labeled "2" and "3."

You can rearrange them by clicking and dragging them into place; whatever order they're in here is the order they'll appear on your desk from left to right. That's all there is to it!